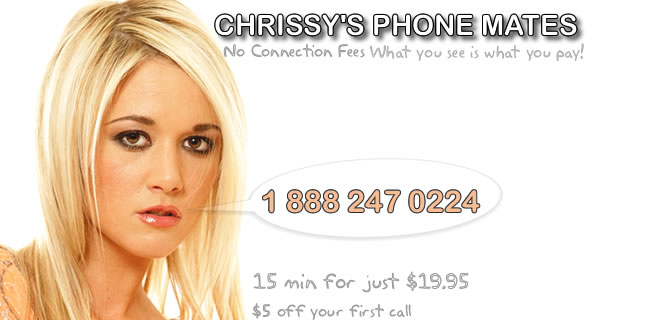 Chrissy's Phone Sex Mates
Cheap Phone Sex is Back : After a ton of emails received over the course of the past few years, Chrissy's Phone Sex Girls are back!
You have seen the ads and maybe even called other phone sex lines. You have had some fun, but not quite, never really enough. Truth is what we do is an art and it takes more than groaning and moaning to make a call memorable and satisfying. At Chrissysexmates.com we have one rule: Satisfaction guaranteed!
We are the phone sex girls experts, the fetish girls who swing both ways from humiliation with implacable and sensual mistresses, to innocent sounding coeds going by the universal rule that no taboo sex roleplay is the ultimate major in their study of all things sexual. We've got big tit phone sluts, the cuckolding babes who take cuckold phone sex to a different level, and of course we love big black cocks. We invite you to call in and bring your perverted imagination to our attention. Whatever you dream about, our girls can do it!
Chrissy's Phone Sex Mates: $19.95 for up to 15 minutes of sexual bliss!
Cheap phone sex is back. But there is even more:
If you have never called our cheap hotline, we will take a full $5 off your bill!
1-888-247-0224
For those of you who don't know, Chrissy took the world of phone sex by storm when in 1997 she was the first to introduce the concept of up to a 15 minute call for a cheap, (very cheap in fact), no gimmicks, no rip offs price. Our offer was unprecedented and unheard off and raised quite a few worried eyebrows in our industry!

Keeping to her philosophy of offering the best deals possible, Chrissy this time has gone one step further. Your next conversation will cost you:

ONLY $19.95 FOR A LIVE, TOTALLY UNCENSORED ONE ON ONE CALL

(True Recession Buster Deals!)
No Gimmick, rip offs or hidden charges!

So, if you are horny and into sexy women, but are put off by those insane per minute rates with hidden charges, man! Chrissy's Phone Mates will blow your mind! (... and something else of course if you'll pardon the pun! )

At Chrissy's Phone Mates you can be sure to enjoy:

Live one on one conversations with the sexiest women around!

A dispatch office open 24 hours a day.

A scrupulously guarded privacy policy! Your credit card will be billed and the charge will appear discreetly so as not to alert anyone, including wives, girlfriends...

An incredible near perfect satisfaction guarantee. In over 10 years and thousands of callers, we have only had less that 0.25 % of customers who have express a disappointment in the services we provide (that's a quarter of one percent!), and in each one of those cases, those customers were refunded in full. How about that for a change! Cheap phone sex conversations and your satisfaction guaranteed or your money back!

WATCH THIS SPACE FOR INCREDIBLE OFFERS INCLUDING:

Free calls
5 minute quickies
and more!
Chrissy's Phone Sex Mate: 1-888-247-0224 for up to 15 minutes of pleasure!
Cheap. Satisfying. Unique. Discreet.
No Gimmicks, No Membership Fees, No Toll Charges, and No Hidden Charges!
To see our selection of girls, click here!
Enjoy a sex fantasy by phone today!
Hot phone sex with the sexy girls of chrissysexmates is an experience our customers haven enjoying for the past decade and more. The truth is, once they try our girls, they seldom settle to go back to the boring phone sex girls in other services. If you are looking for quality, and think that cheap doesn't necesarily go hand in hand with that quality, think again! We have the most delightful cheap phone sex offered by one of our other dispatch office that will blow your mind.
But if you stay here, and I think you should, you can avail yourself to the best 15 min of sex, your side of my bed. And at $19.95 for a complete and satisfying phone sex conversation, you'll probably think I've somehow crossed the virtual devide and moved right next to you! Flat rate phone sex which translated to $1.33 per min. And no... There are No Hidden Fees, No added Charges, No gimmick.
And... First time callers get an automatic discount of $5.
CHEAP. PHONE. SEX.
DISCREET. MEMORABLE. IN BUSINESS SINCE 2001